SolarWinds Network Performance Management
The larger and more complex the network, the greater the need for network automation and integrated operations monitoring and management.
ADVANCED NETWORK TROUBLESHOOTING
Reduce network outages and quickly detect, diagnose, and resolve network
performance issues. With critical path hop- by-hop analysis and visualization along
the service delivery path, you can view network performance and traffic details,
regardless of device location.
Multi-vendor network monitoring

Network Insights for deeper visibility

Intelligent maps

NetPath and PerfStack for easy troubleshooting

Smarter scalability for large environments

Advanced alerting
NETWORK TRAFFIC AND BANDWIDTH ANALYSIS
Alert on network bandwidth and traffic patterns with up to one-minute granularity.
Collect, monitor, and analyze NetFlow, sFlow® , J-Flow™, IPFIX, and NetStream™
data to identify how much traffic is on your network and which applications are
being used.
Bandwidth monitoring

Application traffic alerting

Network traffic analysis

VMware vSphere distributed switch support

Performance analysis dashboard

Advanced application recognition
AUTOMATED CONFIG AND CHANGE MANAGEMENT
Monitor, back up, and bulk-deploy network device configurations, so you can recover
quickly from hardware faults and configuration errors. Receive real- time change
notifications and help ensure devices are configured and operating in compliance
with regulatory standards.
Network compliance

Network automation

Configuration backup

Vulnerability assessment

Network Insight for Cisco and Palo Alto

Integration with Network Performance Monitor
SWITCH PORT AND END-USER MONITORING AND TRACKING
Know how switches and ports are being used, and which switches are nearing
capacity. Know who and what is connected to your network, and when and where
they're connected. Track endpoint devices by MAC and IP address on your wired
and wireless networks.
Automated IP address tracking

Integrated DHCP, DNS, and IP address management

IP address alerting, troubleshooting, and reporting

Multi-vendor on-prem and cloud DHCP and DNS support

IP Request Form for streamlining and automating IP address requests

API support with CRUD operations for two-way integration with third-party software

Locate users and devices on your network

Identify users with Active Directory integration

Whitelist hosts to detect rogue devices

Track sensitive or suspicious devices with a watch list

Correlate network topology to endpoints and users

Remotely turn switch ports on and off
SolarWinds has again been ranked number one in Network Management Software market share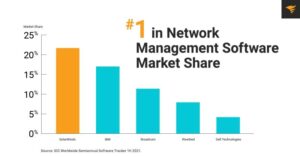 Check it yourself on SolarWinds new Demolab
How can IT be easier for you? Let us help.

Adfontes Software                                           
Adfontes Software is a leading succesful strategic SolarWinds Channel Champion Partner who delivers great business value to customers in all market segments from small to global Fortune 500 with IT Operation Management (ITOM) Software & Services delivering to 1000+ customers, partners and resellers accross EMEA with SolarWinds Managed Services, Licenses, Subscriptions, Support Renewals, best in class certified Consultancy, High Level Design & Training.
Adfontes Software B.V. © 2021 All rights reserved.