SolarWinds IT Operations Management (ITOM)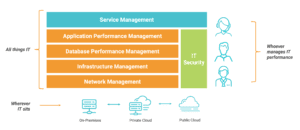 The SolarWinds ITOM framework is an easy-to-understand construct including six key technology pillars.
Manage and Align People, Process, and Technology
With the constant evolution of technology, expanding IT environments, adoption of cloud resources, changes in staff, and more, organizations of any size can quickly find themselves in a state of disorganization with off-track projects and escalating costs.Improve operational efficiency. Lead your digital transformation projects and day-to-day operations with our IT Service Management capabilities that IT pros have spent years perfecting services through effective incident management, change management, IT asset management, and more.
Application Performance Management
Organizations depend on multiple traditional and modern applications to meet business objectives for IT operations, including productivity, communication, and business transactions. And as applications are deployed on-premises, in the cloud, or in some combination of both, it's harder than ever for IT pros to quickly pinpoint where a problem occurs across the IT stack.
Database Performance Management
Wherever your data lives, it's the lifeblood of your business. It powers your applications and provides the insight to drive your business forward. With support for all leading relational, open-source, and NoSQL databases, we have you covered.Leverage advanced database anomaly detection powered by machine learning that gets smarter over time. Pinpoint the root cause of performance issues with an easy-to-use, intuitive user experience to keep your databases optimized and ready to deliver your next business advantage.
Infrastructure Management
Whether physical, virtualized, or private cloud, organizations typically end up using IT operations management solutions from multiple vendors to deliver their on-premises compute, network, and storage architectures. Then they're challenged with determining the best way to ensure it's all working and performing optimally using ITOM software capabilities that don't integrate well with one another.
Networks are complex, but managing your network doesn't have to be. At SolarWinds, our mission is to make IT look easy.
We've been helping IT pros master their network management for 20 years. They've made us #1 by telling us exactly what problem they want solved, and how they want it solved—and that's what we deliver. So, sure, you could try managing your network with software from the other guys, but then you'd have to use it. By solving today's network monitoring challenges and not tomorrow's buzzwords, SolarWinds empowers IT pros like you to keep your business moving forward. We're proud to continue challenging the status quo—and the bloated network management software model most technology organizations have been forced to accept.
With attack surfaces expanded by newly remote workforces, cyberthreats are everywhere—both internally and externally. Many organizations feel they don't have the technology or employee skills necessary to stay ahead of the threat landscape. Regulations like GDPR and industry standards like PCI DSS can leave many bewildered as to what to do. Let's make it easier. With SolarWinds, you can more easily maintain a more secure and compliant operational environment, and all without necessarily having to set up a full-blown Security Operations Center (SOC). Our IT Security solutions help correlate logs and events, patch software, track server changes, enable control and audit of access to critical resources and data, and more.
Download: SolarWinds IT Operations Management 2020 Brochure
® Adfontes Software B.V. © 2020 All rights reserved.