SolarWinds Network Management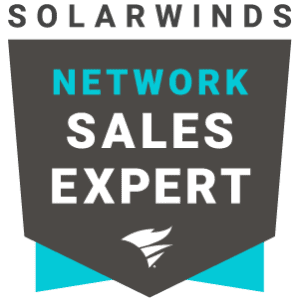 SolarWinds has developed network management tools, from configuration and traffic intelligence to performance monitoring and topology mapping, to readily see, understand, and resolve issues. An integrated, multi-vendor approach that's easy to use, extend, and scale to keep distributed networks optimized, SolarWinds has the world's leading network monitoring solution for multi-vendor environments. At Adfontes Software, we distribute these efficient software solutions to various businesses.
Interested in our services?
SolarWinds Network Automation Management
The larger and more complex the network, the greater the need for network automation and integrated operations monitoring and management. SolarWinds® Network Automation Manager (NAM) is designed to cover large or complex environments with comprehensive performance, traffic, WAN, and switch port monitoring, automated change and configuration, and IP address management in a single, unified software solution.
SolarWinds Network Automation Manager Datasheet 2023
Network Performance Monitor
The Network Performance Monitor gives visibility into the health, performance, and security of your network infrastructure to help accelerate troubleshooting. You can quickly detect, diagnose, and resolve network performance issues and outages. SolarWinds Network Management is designed to reduce network outages and improve performance with helpful features, such as:
Multi-vendor support;
Network Insight™;
End-to-end visibility;
QOS – Quality of Service metrics;
Integration to the Orion® Platform for single-pane-of-glass;
Root-cause analysis.
SolarWinds Network Configuration Manager Datasheet 2023
NetFlow Traffic Analyzer
SolarWinds ® NetFlow Traffic Analyzer (NTA) is a multi-vendor flow analysis tool designed to proactively reduce network downtime. NTA delivers actionable insights to help IT pros troubleshoot and optimize spend on bandwidth by better understanding the who, what, and where of traffic consumption. This software, which we provide as a SolarWinds partner, allows you to:
Monitor and analyze interface-level network bandwidth and traffic patterns with one-minute granularity;
Drill down into any network element to analyze traffic patterns over months, days, or minutes;
See which applications, protocols, sources, and destinations generate the most bandwidth;
Integration with Network Performance Monitor – Seamlessly integrate with NPM in a single console for comprehensive network bandwidth analysis and performance monitoring.
SolarWinds Netflow Traffic Analyzer 2023 Datasheet
Network Configuration Manager
SolarWinds ® Network Configuration Manager (NCM) is used by network engineers to configure network devices and manage changes and compliance. NCM helps save time and improve network performance and reliability by utilizing automation to perform tasks more quickly and easily across tens, hundreds, or even thousands of routers, switches, and firewalls from many different vendors. Reduce cost, save work hours, and remain compliant with automated network configuration management and backup. This tool includes:
Network automation;
Network compliance and management;
Configuration backup.
SolarWinds Network Configuration Manager Datasheet 2023
IP Address Manager
SolarWinds offers IP address management software designed to save time and prevent costly errors. This software features:
Automated IP address tracking;
Integrated DHCP, DNS, and IP address management tools;
IP alerting, troubleshooting, and reporting.
IP Address Manager Features
SolarWinds IP Adress Manager Datasheet 2023
User Device Tracker
Network device tracking software is designed to locate users and devices on your network. This tool allows you to:
Quickly locate network devices;
Map and monitor WAPs, switches, and ports;
Manage switch and switch port capacity.
SolarWinds User Device Tracker Datasheet 2023
VoIP & Network Quality Manager
VoIP monitoring software is designed for deep critical call QoS metrics and WAN performance insights, such as:
Real-time WAN monitoring;
Troubleshoot VoIP call quality problems;
Visual VoIP call path trace.
SolarWinds VNQM Datasheet 2023
Network Automation Manager
Network automation software is designed for on-prem, cloud, and hybrid environments. This software includes:
Network performance monitoring;
Traffic and bandwidth analysis;
Configuration and change management.
Log Analyzer
SolarWinds® Log Analyzer is a powerful log management and analysis tool designed to fully integrate with the Orion® Platform and provide users with a mechanism to realize the potential of their log data. With real-time log collection, analysis, and visualization, you can gain out-of-the-box visibility into the performance and availability of your IT infrastructure. This also includes:
Log and event collection and analysis;
Powerful search and filter;
Real-time log stream.
SolarWinds Log Analyzer Datasheet 2023
Network Topology Mapper
Automatically discover network topology with SolarWinds® Network Topology Mapper (NTM) using ICMP, SNMP, WMI, CDP, VMware, Microsoft Hyper-V, and more. Automated database mapping software allows you to discover your entire network and create comprehensive, detailed network topology maps. You can also edit node details of map objects and connect network devices manually. Furthermore, this software allows you to:
Automate device discovery and mapping;
Build multiple maps from a single scan;
Perform multi-level network discovery.
Engineer's Toolset
Network software with over 60 must-have tools, such as:
Automated network discovery;
Real time monitoring and alerting;
Powerful diagnostic capabilities.
Kiwi CatTools
Powerful network automation and configuration management software with which you can:
Schedule automated configuration backups;
Perform bulk configuration changes;
Increase security.
Kiwi Syslog Server
Centralize and simplify log message management across network devices and servers. This server allows you to:
Centrally manage syslog messages;
Receive real-time alerts based on syslog messages;
Automatically respond to syslog messages.
ipMonitor
This is an essential up/down and performance monitoring for networks, servers, VMware hosts, and applications. With this software, you can:
Monitor network devices, servers, VMware hosts, and applications from one console;
Receive alerts for availability and performance issues;
Monitor network status on maps and NOC view.
Network Management Bundles
Network Management Bundles
Network Bandwidth Analyzer Pack
Comprehensive network bandwidth analysis and performance monitoring
Detect, diagnose, and resolve network performance issues;
Track response time, availability, and uptime of routers, switches, and other SNMP-enabled devices;
Monitor and analyze network bandwidth performance and traffic patterns.
Log and Network Performance Pack
Network performance and log monitoring are combined in a single unified console. This pack includes features that allow you to:
Reduce network outages;
Aggregate, search, and chart log data;
Accelerate time to resolution.
IP Control Bundle
Say goodbye to spreadsheets and hello to improved network reliability and control. This bundle offers various advantages, such as:
Advanced DHCP, DNS, and IP address management;
Comprehensive switch, switch port, WAP, endpoint, and user tracking;
Active DHCP, DNS switch, switch port, WAP, and rogue device monitoring and alerting.
Learn more about managing your network
Are you interested in purchasing SolarWinds Network Management for your business? Purchase your software from us as a premium SolarWinds distributor. Our experts will gladly tell you more about this software's features. Contact us via our contact form or call us at +31627241181 for more information.
Adfontes Software Business Support Team