SolarWinds Consulting, how can Adfontes help your Business?
Whether you need IT consultancy or want to train your admin staff, Adfontes is the right platform for your business growth. We offer professional and affordable IT training and implementation for SolarWinds services and products. If you want to unleash the true potential of SolarWinds products and services, Adfontes is the best platform for you.
Adfontes Software delivers best-in-class certified industry experts SolarWinds engineers & SolarWinds Project Managers, we are able to deliver turn-key solutions, High Level Design (HLD) or project specific assistance. Our staff is a valuable asset to your business.
Over years we have built up an impressive SolarWinds Consulting Track record, amongst our customers you will find the larger SolarWinds strategic accounts.
SolarWinds Proof of Concept / Pilots with Project Management
Adfontes Software can provide SolarWinds High Level design (HLD) complete system architecture and implementation from hardware requirements to installation and network discovery.
SolarWinds Optimization
Adfontes Software can optimize your existing Solarwinds deployment with our scalability engineers we will ensure your SolarWinds Deployment will perform optimally.

SolarWinds Development
Adfontes Software can provide custom development, training, and implementation for extending the built-in capabilities of your software platforms.

Adfontes Software can improve the performance of your SolarWinds platform with a comprehensive Health Check review, designed to ensure your platform is correctly provisioned and configured to your requirements and industry best-practice.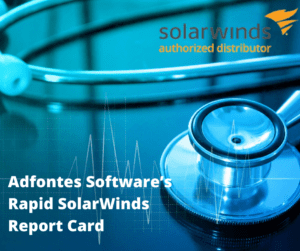 Adfontes Software can let you gain valuable, actionable insights into the performance status of your SolarWinds Orion core platform.
Adfontes Software will investigate & Analyze your Database Performance and will provide valuable recommendations