SolarWinds Partners Earn EMEA Awards 2022
SolarWinds has announced its 2022 EMEA Partner Awards for SolarWinds EMEA partners. The awards recognize the achievements of the company's distribution and reseller partner community over the past year.
SolarWinds determined the winners based on revenue and year-over-year growth trajectory. They were also judged on investment in SolarWinds, development commitment and technology alignment. SolarWinds rated them on effectiveness in collaboration with the company's regional field organizations, as well as effectiveness of marketing campaigns and go-to-market strategies. Finally, the company judged the winners on SolarWinds Certified Professional and SolarWinds Sales Expert accreditations over the past year.
Ludovic Neveu is group vice president, EMEA sales, SolarWinds.
"Congratulations to this year's winners for their achievements and continuous dedication to delivering excellent results," Neveu said. "Our valued partners are integral to our overall success in delivering excellent customer experience, and we'd like to thank them for their outstanding work."
The full list of EMEA winners is as follows:
Distributor of the Year: Clever Solutions­ (Saudi Arabia)

Partner of the Year: Loop 1 (U.K.)

Breakthrough Award: Adfontes Software B.V (Netherlands)

Personal Achievement: Glenn Lazarus, ATS Network Management (South Africa)
The company gave awards for excellence to:
Customer Retention: Prosperon Networks (UK)

New Business Development: Bynet and Prologic (Israel)

Subscription Sales: SoftwareOne AG (Switzerland)

Marketing: Prianto (Germany)

Enablement: Prosperon Networks (UK)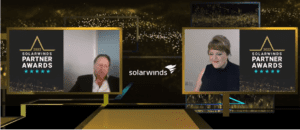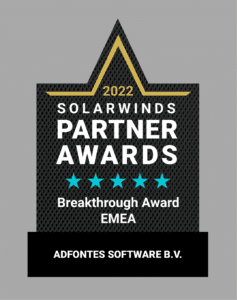 About Adfontes Software                                                                    
Adfontes Software is a leading strategic SolarWinds Distribution Partner who delivers great business value to customers in all market segments from small to global Fortune 500 with SolarWinds Hybrid Cloud Observability,  IT Operation Management (ITOM) Software & Services, delivering to 1000+ customers, partners and resellers accross EMEA with SolarWinds Managed Services, Licenses, Subscriptions, Maintenance  Renewals, best in class certified SolarWinds Consultancy, High Level Design & Training.  Adfontes Software is SolarWinds Breakthrough  Partner 2022 EMEA

® Adfontes Software B.V. © 2022 All rights reserved.