Adfontes Software global Elite Partner of SolarWinds Hybrid Cloud Observability and IT Operation Management Software, has been selected by a global Bank to provide expert SolarWinds managed services accross the globe.
Managed Services are delivered by certified trusted expert SolarWinds Engineers
 Enjoy peace of mind without worrying about IT infrastructure management
 Available IT support anywhere, anytime without interrupting business
 Protect and optimize investment in SolarWinds software
Enhanced expert Support
Global Coverage
Interested in our SolarWinds Managed Services? Please contact our Business Support Team.

About Adfontes Software                                                                    
Adfontes Software a leading SolarWinds Distribution Elite Partner who delivers great business value from small to global Fortune 500 customers, partners and resellers accross EMEA with IT Operation Management (ITOM) Software & Consultancy Services, SolarWinds Managed Services, Licenses, Support Renewals, Hybrid Cloud Observability Conversions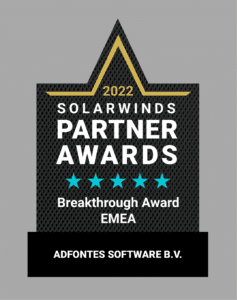 ® Adfontes Software B.V. © 2023 All rights reserved.