Adfontes Software welcomes new customers for Security Event Manager
SolarWinds makes securing IT easy by providing a simple, powerful, cost-effective tool designed to help IT professionals protect with real time security incident awareness, their network ecosystems—critical to business continuity—from internal and external cyberthreats by a single pane of glass.
SolarWinds Security Event Manager (SEM) is an affordable, easy-to-use SIEM solution helping resource-constrained IT and security professionals gain real-time security incident awareness and response across their network and reducing the burden of demonstrating compliance for most regulations. As a downloadable virtual appliance capable of being deployed on-premises or in the public cloud, SEM creates value fast.
IT security and compliance doesn't have to be complicated or out of reach for all but the largest organizations. SolarWinds delivers security, compliancy and automation out of the box to help reduce administrative resource needs while helping improve security. SEM all inclusive is licensed per node, this eliminates the need to restrict which logs are monitored and stored.
Security Event Manager comes with hundreds of pre-built connectors to gather logs from various sources, parse their data, and put it into a common readable format, creating a central location for you and your team to easily investigate potential threats, prepare for audits, and store logs.
Security Event Manager includes features to quickly and easily narrow in on the logs you need, such as visualizations, out-of-the-box filters, and simple, responsive text-based searching for both live and historical events. With scheduled search, you can save, load, and schedule your most commonly used searches.
Security Event Management Training
Security Event Management Training helps organizations to recognize the threats, analyze their occurrence and the possible damage that can be caused by these threats. It also analyzes the available solutions for each threat and considers what is already in place within an organization.
SEM training is helpful for security analysts and managers who have a daily task to follow up on new vulnerabilities in operating systems, applications, or services as well as new threats like zero-day attacks or advanced attacks.
SEM analysts also use SEM to maintain their baseline of what is happening in their network and analyze suspicious activity reported from endpoints such as firewall logs.
Adfontes Software has delivered business critical SEM projects with implementation & training included.
Security Event Manager Licensing
SEM license Starts at € 2.341 Subscription and Perpetual Licensing options available
Are you interested in SolarWinds Security Event Manager? Please contact our Business Support Team
Integration with SolarWinds products
Additional SolarWinds solutions, such as Network Performance Monitor (NPM), Server & Application Monitor (SAM), and Virtualization Manager (VMan), can send performance alerts as SNMP Traps to the SEM Manager to correlate performance alerts with SEM events.
Security Event Manager Datasheet
Enhance IT Security with SolarWinds Security Event Manager
Customer Support Security Event Manager
Security Event Manager Administrator Guide
Security Event Manager Reviews on TrustRadius

About Adfontes Software                                                                    
Adfontes Software is a leading SolarWinds Distribution Elite Partner who delivers great business value from small to global Fortune 500 customers, partners and resellers accross EMEA with IT Operation Management (ITOM) Software & Consultancy Services, SolarWinds Managed Services, Licenses, Support Renewals, Hybrid Cloud Observability Conversions, certified Adfontes Software is SolarWinds Breakthrough  Partner of the Year 2022 EMEA.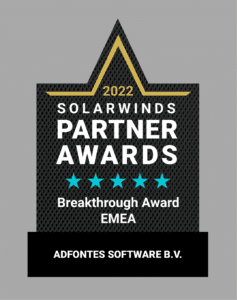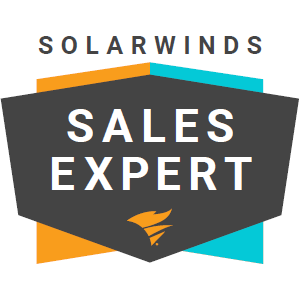 ® Adfontes Software B.V. © 2023 All rights reserved.