Free Mini HealthCheck on SolarWinds
Adfontes Software, in collaboration with Loop1 – a world-leading IT Operations Management company specialising in the SolarWinds platform – is proud to announce the launch of their new service: a Free Mini HealthCheck on SolarWinds.RRC Datasheet EMEA Adfontes 20.06.2023
This new service focuses on providing technical support to customers who are feeling overwhelmed with unnecessary alerts or simply wanting to make better use of all the features and benefits their existing SolarWinds services has to offer.
SolarWinds Free Mini HealthCheck | What is it? 
The Free Mini HealthCheck is a check of your current SolarWinds platform. It helps you pinpoint hardware, server, performance problems and identify any gaps in their feature deployment while understanding the bigger picture and planning for what's next. The mini health check allows you to define your alerting strategy more effectively. It can be tailored to suit each individual needs and provide you with solutions that solve your problems with the SolarWinds features.
SolarWinds Free Mini HealthCheck | Essentials
Take a deep dive into your SolarWinds Orion platform to uncover any configuration issues or bottlenecks that could be impacting its performance.
Discover the power of performance optimization and data accuracy by utilizing effective architecture solutions. Gain valuable insights through customized charts, reports, and more!
To efficiently optimize your network and maximize performance, consider strategic alignment of SolarWinds Orion servers and polling engines to circumvent constraints due to security protocols, latency problems, or scarce existing bandwidth.
You get a detailed report and action plan to help you maximize the potential of the platform. Our recommendations will give you the roadmap for making meaningful changes that can bring success for now and the future.
Get results and insights that can take your system back in shape; perfect performance of the services and its features.
Our service helps create a foundation for success, ensuring your organization can reach its full potential.
How does the SolarWinds Free Mini HealthCheck work?
Step 1: Register your interest here and we'll be in touch with all of the information necessary for a successful start of the Mini HealthCheck.
Step 2: Unlock an in-depth analysis of your IT environment with the Orion Insights Report. Check out this video that gives you the instructions for accessing the report through your SolarWinds Customer Portal.
Step 3: Let our SCP-certified engineers take care of your Rapid Report Card, and you'll soon have the expertise of our technical team.
Step 4: The experts will prepare your Report Card, which includes recommendations for improvements and enhancements to your SolarWinds environment.
Step 5: We'll plan a meeting so you can check out the Report Card and hear all about our findings. Afterwards, the RC is yours.
More information & Contact
Discover how Loop1's Rapid Report Card can help you get the most out of your SolarWinds Services and IT infrastructure. Feel free to contact Adfontes Software or visit the Loop1 website for more information.
How can IT be easier for you? Let us help.

About Adfontes Software                                                                    
Adfontes Software is a leading SolarWinds Distribution Elite Partner who delivers great business value from small to global Fortune 500 customers, partners and resellers accross EMEA with IT Operation Management (ITOM) Software & Consultancy Services, SolarWinds Managed Services, Licenses, Support Renewals, Hybrid Cloud Observability Conversions, certified Adfontes Software is SolarWinds Breakthrough  Partner of the Year 2022 EMEA.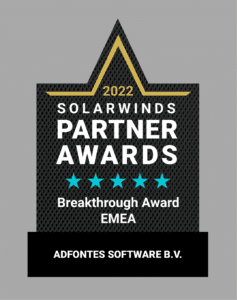 ® Adfontes Software B.V. © 2023 All rights reserved.