SolarWinds has listed specific distributors and dealers in the Netherlands, Belgium and the rest of the Benelux that are authorized to sell products and services to businesses and individuals. The objective is to provide a variety of selections for the customers to choose from. The authorized distributors and dealers have been pre-approved by SolarWinds and have met specific qualifications that make them stand out from the rest.
Buying from an authorized SolarWinds distributor has many perks, like professional support and delivery of original and authentic products. It is always advised to get the products and services from reliable and trusted resources only.
Interested in our services?
The products that we sell as an authorized SolarWinds distributor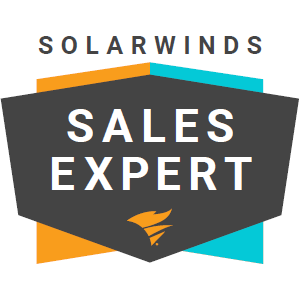 Adfontes Software is an official SolarWinds distributor and authorized service provider for all SolarWinds products. From SolarWinds high level design architectures, implementations & training sessions to complete support for the products, Adfontes is the complete business partner when you need to take control over your IT infrastructure.
This means that, as a SolarWinds partner, Adfontes Software will provide all the IT support services to ensure the smooth functioning of your SolarWinds deployment without fail. This happens by providing professional training as well as SolarWinds maintenance and troubleshooting skills to help solve problems early in every level. This means that you can get more value out of your SolarWinds installation which makes it more viable than other competitors.
As a SolarWinds distributor, Adfontes is an independent company that brings you complete freedom to manage your SolarWinds deployment however you want. It means that we don't have any control over your current environment or the way you use your SolarWinds software. However, we could help manage your software and make sure it is aligned with your business goals. This includes various software packages, such as:

How can IT be easier for you? Let us help.

Contact us to learn more about our subscriptions
Are you interested in purchasing a SolarWinds subscription from an authorized distributor? Then our experts will be happy to help. Our professionals will gladly tell you more about these products and their applications. Learn more about these convenient products by contacting us via +31627241181.
About Adfontes Software                                                                    
Adfontes Software is a leading SolarWinds Distribution Partner in the BENELUX who delivers great business value from small to global Fortune 500 customers, partners and resellers accross EMEA  with IT Operation Management (ITOM) Software & Services, SolarWinds Managed Services, Licenses, Support Renewals, Hybrid Cloud Observability Conversions, certified SolarWinds Consultancy & Training. Adfontes Software is SolarWinds Breakthrough  Partner of the Year 2022 EMEA.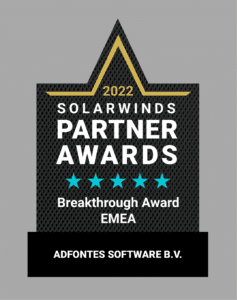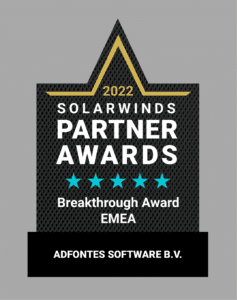 ® Adfontes Software B.V. © 2023 All rights reserved.